WESTMORELAND
WILLIAMSBURG, VIRGINIA
Plats and Plans
---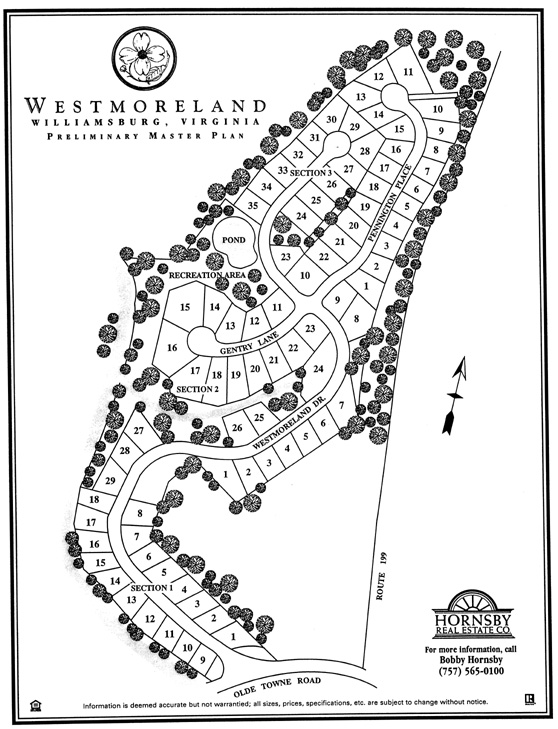 Westmoreland Master Plan
Click here for an Adobe PDF file of this plat suitable for printing
---
Plat of WESTMORELAND Section Three
Click here for an Adobe PDF file of this plat suitable for printing
---
Hornsby Real Estate is pleased to present excellent new lots for sale in Westmoreland. Call Today!
Return to Westmoreland Home Page
---
Hornsby Real Estate Co.
4732 Longhill Road, Suite 1101
P.O. Box 421
Williamsburg, Va. 23187
Phone: (757) 565-0100
Call Hornsby First. It's the Smart Move.
Thank you for visiting Hornsby Real Estate Co. in Williamsburg, Virginia. Please visit our site often for information on homes, commercial property, raw land, waterfront homes & land, or any other Williamsburg real estate question. For over 20 years, Bobby Hornsby has worked as a Realtor, Builder, and Appraiser. His knowledge as a 45 year Williamsburg area resident gives him a hands on history with much of the area property, including land, homes, and waterfront property. Come home to Williamsburg, Virginia, and Call Hornsby Real Estate First to get the information you need.

---
All information is believed accurate but not warranted, prices, specifications, plans, sizes, and styles subject to change without notice and availability is subject to prior sale. No tap or utility fees are included in prices. Owner is Licensed Broker In Virginia.