WESTMORELAND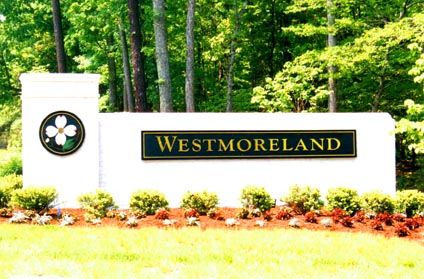 WESTMORELAND is a community of single family homes built by some of Williamsburg's finest builders.
Developed by the Hornsby family, WESTMORELAND features wooded lots, a recreation area, conservation greenspaces, protective covenants, and a design review committee to ensure quality.
---
Hornsby Real Estate Co. currently has FOUR lots for sale in Westmoreland:
Call 757-565-0100 today for more information on this superior property.
---
HISTORICAL NOTES
Named for a shire in England, Virginia's Westmoreland County was founded in 1653 by the House of Burgesses at the Jamestown settlement. The rolling fields and forests of Westmoreland were home to some of America's most celebrated patriots including James Monroe and George Washington.
---
Based on the terrific success of Windsor Forest, another quality Hornsby homesite community, the land planning and roadway characteristics have been designed to establish a new development with the flavor of the familiar. One might say that WESTMORELAND has been designed to be the "cousin of Windsor Forest". It has also been said that the name was chosen because:
"It's on Williamsburg's West side and you get more land for your money".
---
| | |
| --- | --- |
| | The Hornsby's have planned eighty to one hundred homes in WESTMORELAND. Most homes are projected to be in the 2300 to 3500 sq. ft. range. Diversity of style is encouraged, with colonial brick and low maintenance vinyl as the exterior finishes of choice. |
WESTMORELAND homes are served by Underground Public Utility Services including cable TV, telephone, sewer, water, natural gas and electricity. Home prices start around $400,000 and the lots provide good building sites with ample room for trees, yards, and spacious homes.
Click Here For Detailed Plats and Information About WESTMORELAND
| | |
| --- | --- |
| WESTMORELAND is convenient to shopping, schools, Colonial Williamsburg, the College of William and Mary, the Williamsburg-James City Rec Center, golf courses, fine dining, and many other quality services. Richmond, Newport News, Norfolk, and Virginia Beach, including airports and resort areas, are all easily accessible from WESTMORELAND. | |
---
WESTMORELAND LOT FUNDS PLEDGED
TO LAND CONSERVANCY
Reprinted from the Virginia Gazette, Williamsburg, VA
Williamsburg, VA -- The developers of the Westmoreland subdivision off Olde Towne Road have pledged $200 a lot to the Williamsburg Land Conservancy. The pledge from Robert, Lois, Ann and Bobby Hornsby totals $18,000 for the proposed 90 building lots in the development. "In order to continue our long-standing support of quality land management in the Williamsburg area, we have decided to make Westmoreland a Land Conservancy Community. The Hornsby family has been involved as local Realtors, builders and developers for the past 45 years. Robert Hornsby began developing Windsor Forest in 1972 and he ringed the property with wooded land to be left in a natural state. "I've learned so much working with my father," Bobby Hornsby said, "He surrounded his developments with green areas and buffer zones long before it became a government requirement, and 'our' stretch of Longhill Road still is a wooded greenway based on his plans of 25 years ago." In addition to the per lot pledge, the Hornsbys have placed more than 5 acres into a conservation area for the first two sections of Westmoreland. More conservation areas are planned, Hornsby noted. With the increased attention on growth in the area, "it's not enough to only provide green areas within developments, so additional land must be set aside for future generations," he said. "This is the goal we share with the Williamsburg Land Conservancy."
---
Click Here to visit the Westmoreland Owners Association for Bylaws and Restrictions
---
For detailed plats, prices, and information, contact
Hornsby Real Estate Co.
4732 Longhill Road, Suite 1101
P.O. Box 421
Williamsburg, Va. 23187
Phone: (757) 565-0100
Send E-mail to Hornsby Real Estate Co.
---
All information is believed accurate but not warranted, prices, specifications, plans, sizes, and styles subject to change without notice and availability is subject to prior sale. No tap or utility fees are included in lot prices. Owner is Licensed Broker In Virginia. All agents and broker are licensed in Virginia. Information updated April 2, 2017.