The Octane Kids play at Lake Reynovia!
---
On April 21, 1974 the Octane Kids played for a UVA fraternity party at Lake Reynovia outside of Charlottesville, Virginia.
Doug Hornsby, our cousin and a fine guitar player, found these old black and white photos, posted here for your enjoyment.

Band L to R - Bruce Hornsby-Piano, Bobby Hornsby-Bass, Peter Fritchman-Drums, Doug Hornsby-sitting in on guitar, John Friant-Harmonica, Bryan Bostwick-Drums, Bobby "Cakes" Bryant-Guitar. This was probably sound-check because the crowd is still thin and Jimmy DiBoise is kneeling in front of the band in his typical "check-the-levels" position.
---
L to R - Bobby, Peter, John (back on guitar), Bryan, and B-Cakes. It was a beautiful day, made more obvious with Peter, John and Bruce all wood-shedding a tan.
---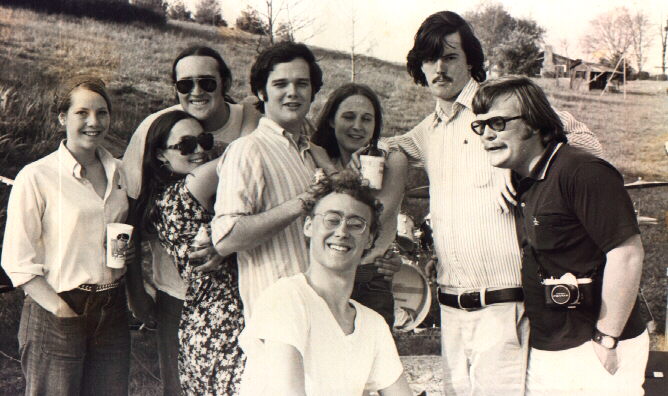 L to R - Standing - Vickie Simons, Ann Skinner, Bobby Hornsby, Joe Howe, Robin Abramson, Doug Hornsby, Sonny Bryant. Kneeling - Bruce Hornsby.
---
| | |
| --- | --- |
| Please send photos, links, or remembrances, to Bobby Hornsby, who is still married to Ann and fired-up after all these years. | |
---